Let's talk a little about good and healthy food. I am a lover of salads and bio food, I could not live without salads,fruits or vegetables. I also like meat, but i prefer the white meat and I try not to eat meat more than 3 times a week This is how my dinners usually looks :)....
I also love to eat pasta and spaghetti, I may say that the italian food is one of the best in my opinion. Healthy, easy to cook and without fats and rich in vitamins.There no wonder that italians look so good.
This morning, reading the news I found a nice article about healthy and light food and the recipes for every day of the week and I thought that would be nice to share it with you. I will try this recipes for sure :)
Bon appétit!!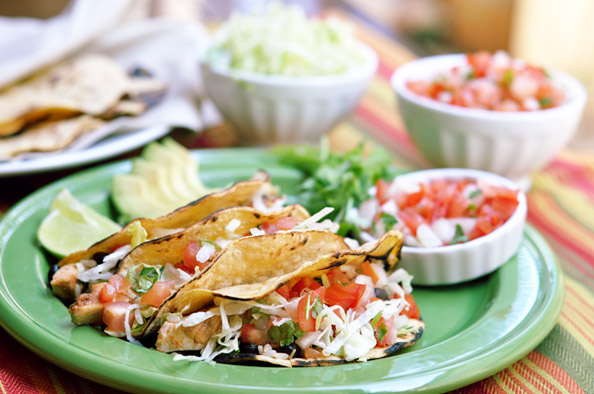 Monday: Oven-Roasted Chicken Breast, 
Rice or Quinoa, Carrots, and Zucchini
3 oz oven-roasted skinless chicken breast
3⁄4 cup cooked brown rice or quinoa
1⁄2 cup steamed carrots
1⁄2 cup frozen grapes
1 tsp extra virgin olive oil
Your choice of herbs and spices
1 cup steamed zucchini
Water, tea
Pair oven-roasted chicken breast (prepared at home or store-bought) with brown rice or quinoa, steamed zucchini, and carrots. Munch on frozen grapes for a sweet ending.
Serves 1. Per serving: 381 calories, 27 grams protein, 55 grams carbohydrates, 7 grams fat
Tuesday: Herb-Crusted Salmon with Baby Potatoes and Artichokes
3 oz salmon
6 oz red potatoes
1 medium steamed artichoke
Extra virgin olive oil cooking spray
1 cup spinach
1 Tbsp minced garlic
1 Tbsp minced rosemary
Salt and ground black pepper
Water, tea
1. Steam artichoke over low heat for 30–40 minutes.
2. Preheat oven to 350°F. Line a baking tray with foil and spray with olive oil. Wash salmon, pat dry, and spread garlic, rosemary, salt, and pepper over top. Bake for 10–15 min, depending on thickness. Serve with artichoke, steamed spinach, and boiled potatoes.
Serves 1. Per serving: 371 calories, 28 grams protein, 52 grams carbohydrates, 8 grams fat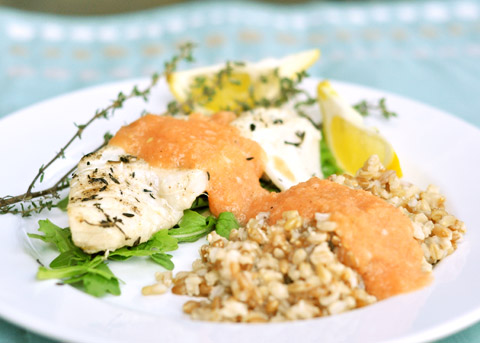 Wednesday: Grilled Halibut with Tomato Coulis
For Tomato Coulis:
2 beefsteak tomatoes
1⁄4 cup red wine vinegar
1 teaspoon minced garlic
1 teaspoon fine sea salt
For Halibut:
4 halibut fillets (4 ounces each) Olive oil, for brushing
Sea salt and cracked black pepper
1⁄2 teaspoon ground black pepper
1 red onion, chopped
1⁄4 cup extra-virgin olive oil
1 bunch fresh thyme
Juice of 1 lemon
To Make Tomato Coulis:
1. Bring a pot of water to a boil. Fill a bowl with ice and water. Cut a shallow "X" at the bottom of each tomato. Add the tomatoes to the boiling water and blanch for 1 minute. Transfer to the ice water to cool, then peel. Halve the tomatoes through the equator, then squeeze out the juice and seeds.
2. Finely dice the tomato flesh and place in a medium bowl. Stir in the vinegar and garlic and set aside for 30 minutes.
3. Transfer the tomato mixture to a food processor, add the salt and pepper, and pulse to combine. Add the onion and then, with the machine running, slowly drizzle in the oil.
To Prepare Halibut:
1. Coat a fish grill basket with cooking spray and preheat your grill to medium-high. Brush the halibut fillets with oil and season lightly with salt and cracked pepper.
2. Place the bunch of thyme in the fish grill basket and place over the fire. Once the thyme starts smoking, place the fillets in the basket and place on the grill. Close the lid and grill for 6 minutes. Lift the lid and rotate the fish fillets 90 degrees to create crisscross grill marks and close the lid again. Grill the fish until it flakes easily, about 6 minutes.
3. Serve the fish with tomato coulis and garnish with grilled thyme.
Serves 4. Per serving: 273 calories, 24 grams protein, 3 grams carbohydrates, 18 grams fat
Thursday: BBQ Chicken Breast, Corn Cobbette, and Melon
3 oz BBQ skinless chicken breast
1⁄2 ear of corn
2 cantaloupe wedges (or 2 cups cubed melon)
1 tsp extra virgin olive oil (brush onto chicken before grilling)
1 Tbsp BBQ sauce
Water, tea
1. BBQ the chicken however you like, prepare corn in boiling water or on grill, add salt to taste. Enjoy with a side of cantaloupe.
Serves 1. Per serving: 393 calories, 27 grams protein, 50 grams carbohydrates, 12 grams fat
Friday: Sushi, Brown Rice, and Steamed Veggies
Order these at your favorite sushi hot spot!
2 pieces salmon roll
2 pieces tuna roll (if you're pregnant, you can swap the tuna with salmon).
2 pieces yellowtail roll
Sushi is wrapped in rice, thus no need to add any other carbs to this meal.
1⁄5 avocado, diced (rolled into sushi)
Low-sodium soy sauce
Wasabi
1 cup steamed veggies
Water
Tea
Serves 1. Per serving: 326 calories, 22 grams protein, 44 grams carbohydrates, 4 grams fat
Saturday: Chicken Soft Taco (at Home or While Dining Out)
3 oz grilled skinless chicken breast
One 6″ whole wheat tortilla
1⁄4 cup black beans
1⁄4 cup rice
Extra virgin olive oil cooking spray
Shredded lettuce Tomato Onion Fresh salsa
Water
Tea
1. Wrap chicken into warm tortilla with lettuce, tomato, onion, and salsa. Enjoy black beans and rice on the side. If dining out, order two chicken soft tacos and request no cheese, no sour cream, and no special sauces except for salsa.
Serves 1. Per serving: 388 calories, 29 grams protein, 56 grams carbohydrates, 7 grams fat
Sunday: Mongolian Beef
For Soy Sauce Mixture:
1⁄4 cup low-sodium soy sauce
1 tbsp hoisin sauce
1 tbsp rice vinegar
1 tbsp cornstarch
1 tbsp sambal (chili-garlic paste)
1 tsp coconut palm sugar or 1⁄2 tsp stevia
1. Combine the soy sauce, hoisin, vinegar, stirring until smooth.
For Beef:
8 oz rice noodles
2 tsp coconut oil
2 tbsp minced garlic
2 tbsp minced fresh ginger
1 lb grass fed sirloin steak, thinly sliced across the grain
16 scallions, cut into 2-inch pieces
2 carrots, diced
1 cup fresh bean sprouts
1. Bring a medium pot of water to a boil. Add the rice noodles and cook according to package directions. Drain and set aside.
2. Melt the coconut oil in a large nonstick skillet over medium-high heat. Add the garlic, ginger, and beef and cook until beef is browned, about 5 minutes. Add the veggies and cook for 30 seconds. Add the soy sauce mixture and cook, stirring constantly, until thickened, about 1 minute.
Remove from the heat, add the cooked noodles and bean sprouts, and toss to combine. Serve immediately.
Serves 4. Per serving: 210 calories, 21 grams protein, 19 grams carbohydrates, 5 grams fat.